Upper GI Endoscopy
---
An upper endoscopy, also called an upper gastrointestinal endoscopy, is a procedure used to visually examine your upper digestive system. This is done with the help of a tiny camera on the end of a long, flexible tube. A specialist in diseases of the digestive system (gastroenterologist) uses an endoscopy to diagnose and sometimes treat conditions that affect the upper part of the digestive system.
The medical term for an upper endoscopy is esophagogastroduodenoscopy. You may have an upper endoscopy done in your health care provider's office, an outpatient surgery center or a hospital.
This procedure is done using a long, flexible tube called an endoscope. The tube has a tiny light and video camera on one end. The tube is put into your mouth and throat. Then it is slowly pushed through your esophagus and stomach, and into your duodenum. Video images from the tube are seen on a monitor.
Why it's done
---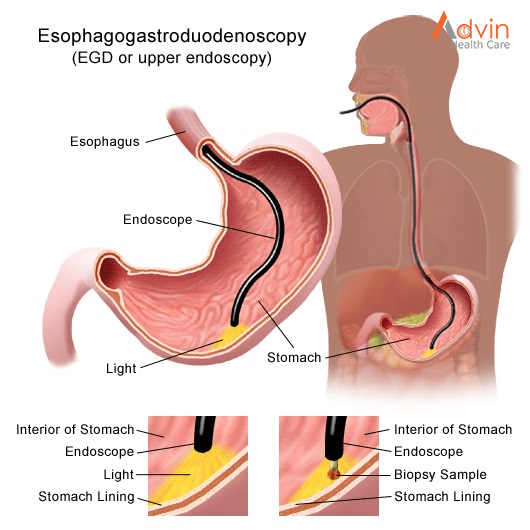 An upper endoscopy is used to diagnose and sometimes treat conditions that affect the upper part of the digestive system. The upper digestive system includes the esophagus, stomach and beginning of the small intestine (duodenum).
Your provider may recommend an endoscopy procedure to:
Investigate symptoms. An endoscopy can help determine what's causing digestive signs and symptoms, such as heartburn, nausea, vomiting, abdominal pain, difficulty swallowing and gastrointestinal bleeding.
Diagnose. An endoscopy offers an opportunity to collect tissue samples (biopsy) to test for diseases and conditions that may be causing anemia, bleeding, inflammation or diarrhea. It can also detect some cancers of the upper digestive system.
Treat. Special tools can be passed through the endoscope to treat problems in your digestive system. For example, an endoscopy can be used to burn a bleeding vessel to stop bleeding, widen a narrow esophagus, clip off a polyp or remove a foreign object.
An endoscopy is sometimes combined with other procedures, such as an ultrasound. An ultrasound probe may be attached to the endoscope to create images of the wall of your esophagus or stomach. An endoscopic ultrasound may also help create images of hard-to-reach organs, such as your pancreas. Newer endoscopes use high-definition video to provide clearer images.
Many endoscopes are used with technology called narrow band imaging. Narrow band imaging uses special light to help better detect precancerous conditions, such as Barrett's esophagus.
How do I get ready for an upper GI endoscopy?
---
Your healthcare provider will explain the procedure to you. Ask him or her any questions you have about the procedure.
You may be asked to sign a consent form that gives permission to do the procedure. Read the form carefully and ask questions if anything is not clear.
Tell your healthcare provider if you are sensitive to or allergic to any medicines, latex, tape, and anesthesia medicines (local and general).
You will be asked not to eat or drink for 8 hours before the test. This usually means no food or drink after midnight. You may be given additional instructions about following a special diet for 1 or 2 days before the procedure.
Tell your provider if you are pregnant or think you may be pregnant.
Tell your provider if you have a history of bleeding disorders. Let your provider know if you are taking any blood-thinning medicines, aspirin, ibuprofen, or other medicines that affect blood clotting. You may need to stop taking these medicines before the procedure.
Your healthcare provider will give you instructions on how to prepare your bowel for the test. You may be asked to take a laxative, an enema, or a rectal laxative suppository. Or you may have to drink a special fluid that helps prepare your bowel.
If you have a heart valve disease, you may be given disease-fighting medicines (antibiotics) before the test. This may be recommended in certain situations, such as when dilation is being performed. It is not needed for a standard upper endoscopy.
You will be awake during the procedure, but you will take medicine to relax you (a sedative) before the test. Someone will have to drive you home afterward.
Follow any other instructions your provider gives you to get ready.
What happens during an upper GI endoscopy?
---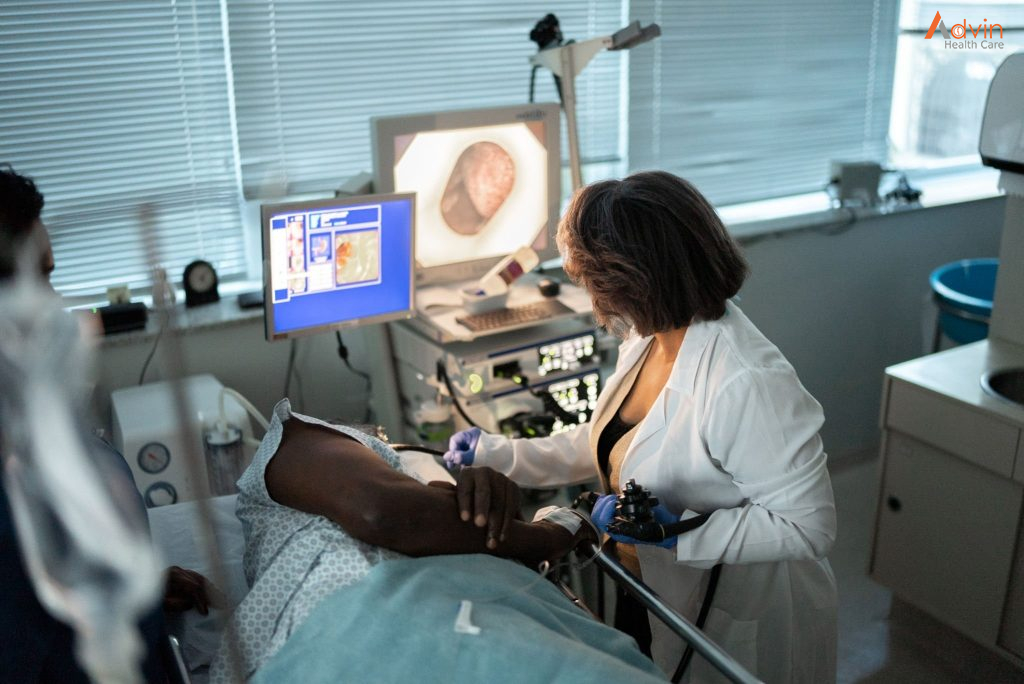 You may have an upper GI endoscopy as an outpatient or as part of your stay in a hospital. The way the test is done may vary depending on your condition and your healthcare provider's practices.
Generally, an upper GI endoscopy follows this process:
You will be asked to remove any clothing, jewelry, or other objects that may interfere with the procedure. If you wear false teeth (dentures), you will be asked to remove them until the test is over.
If you are asked to remove clothing, you will be given a gown to wear.
An IV (intravenous) line will be started in your arm or hand. A medicine to relax you (a sedative) will be injected into the IV.
Your heart rate, blood pressure, respiratory rate, and oxygen level will be checked during the procedure.
You will lie on your left side on the X-ray table with your head bent forward.
Numbing medicine may be sprayed into the back of your throat. This will stop you from gagging as the tube is passed down your throat into your stomach. The spray may have a bitter taste to it. Holding your breath while your provider sprays your throat may decrease the taste.
You will not be able to swallow the saliva that may collect in your mouth during the procedure. This happens because the tube is in your throat. The saliva will be suctioned from your mouth from time to time.
A mouth guard will be placed in your mouth. This will keep you from biting down on the tube. It will also protect your teeth.
Once your throat is numbed and the sedative has relaxed you, your provider will put the tube in your mouth and throat. He or she will guide the tube down your esophagus, through your stomach, and into your duodenum.
You may feel some pressure or swelling as the tube moves along. If needed, samples of fluid or tissue can be taken at any time during the test. Other procedures, such as removing a blockage, may be done while the tube is in place.
After the exam and procedures are done, the tube will be taken out.
What should I expect after an upper GI endoscopy?
---
After an upper GI endoscopy, you can expect the following:
to stay at the hospital or outpatient center for 1 to 2 hours after the procedure so the sedative can wear off
to rest at home for the rest of the day
bloating or nausea for a short time after the procedure
a sore throat for 1 to 2 days
to go back to your normal diet once your swallowing returns to normal
After the procedure, you or a friend or family member who is with you if you're still groggy—will receive instructions on how to care for yourself when you are home. You should follow all instructions.
Some results from an upper GI endoscopy are available right away. Your doctor will share these results with you or, if you choose, with your friend or family member. A pathologist will examine the samples of tissue, cells, or fluid that were taken to help make a diagnosis. Biopsy results take a few days or longer to come back. The pathologist will send a report to your health care professional to discuss with you.
What are the risks of an upper GI endoscopy?
Upper GI endoscopy is considered a safe procedure. The risks of complications from an upper GI endoscopy are low, but may include
bleeding from the site where the doctor took the tissue samples or removed a polyp
perforation in the lining of your upper GI tract
an abnormal reaction to the sedative, including breathing or heart problems
Bleeding caused by the procedure often is minor and stops without treatment. Serious complications such as perforation are uncommon. Your doctor may need to perform surgery to treat some complications. Your doctor can also treat an abnormal reaction to a sedative with medicines or IV fluids during or after the procedure.
Advin Upper GI Endoscopy Products
---