Let's Meet at World's Largest Medical Expo, Arab Health
Arab Health 2024 is a premier healthcare exhibition and congress that serves as a key gathering for professionals and stakeholders in the medical and healthcare industry. This annual event provides a platform for showcasing the latest innovations, technologies, and advancements in healthcare, bringing together leading manufacturers, suppliers, and healthcare professionals from around the world.
The Arab Health 2024 conference features a diverse range of topics, including medical equipment, pharmaceuticals, healthcare services, and emerging trends in the field. Attendees can expect to explore a comprehensive range of future ready products, attend informative sessions, and engage in networking opportunities with experts and decision-makers in the healthcare sector.
As a hub for collaboration, knowledge exchange, and business development, Arab Health 2024 plays a vital role in shaping the future of healthcare by fostering dialogue, promoting breakthroughs, and facilitating partnerships that contribute to the improvement of healthcare delivery globally.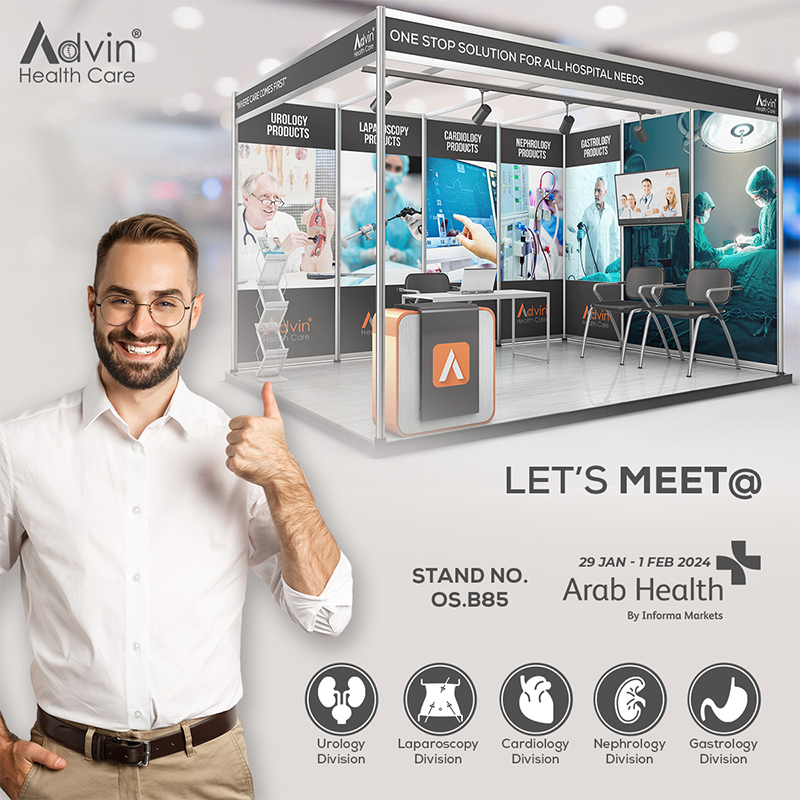 Advin Health Care is a fastest growing medical company having more than 15 years of experience and significant presence over 85+ Countries, headquartered at Ahmedabad, Gujarat, India.
Advin Health Care has become one of the most trusted brands for Medical Equipment, Medical Disposables by understanding and catering to the requirements of surgeons and providing excellent quality of products with significant focus on research and development.
We supply wide range of medical products that includes:
Urology: Specializing in urinary and reproductive health, urologists diagnose and treat conditions like kidney stones and prostate issues, ensuring optimal urological well-being.
Laparoscopy: Minimally invasive surgery using small incisions, laparoscopy allows precise diagnosis and treatment of abdominal and pelvic issues, minimizing scarring and expediting recovery.
Gynecology: Focused on female reproductive health, gynecologists provide comprehensive care, addressing issues from reproductive system disorders to prenatal care, ensuring women's overall well-being.
Nephrology: Nephrologists specialize in kidney health, diagnosing and treating conditions such as kidney disease and hypertension, aiming to optimize renal function and overall well-being.
Cardiology: Cardiologists specialize in heart health, diagnosing and treating conditions like heart disease and hypertension, emphasizing preventive care to promote cardiovascular well-being.
Gastrology: Gastrologists focus on digestive system health, diagnosing and treating conditions like acid reflux, inflammatory bowel disease, and liver disorders, enhancing gastrointestinal well-being.
Arab Health 2024 Venue
Dubai World Trade Centre,
Sheikh Zayed Road, Dubai,
United Arab Emirates.