ERCP Surgery
---
Endoscopic retrograde cholangiopancreatography, or ERCP, is a procedure to diagnose and treat problems in the liver, gallbladder, bile ducts, and pancreas. It combines X-ray and the use of an endoscope—a long, flexible, lighted tube. Your healthcare provider guides the scope through your mouth and throat, then down the esophagus, stomach, and the first part of the small intestine (duodenum). Your healthcare provider can view the inside of these organs and check for problems. Next, he or she will pass a tube through the scope and inject a dye. This highlights the organs on X-ray.
What are the bile and pancreatic ducts?
---
Your bile ducts are tubes that carry bile from your liver to your gallbladder and duodenum. Your pancreatic ducts are tubes that carry pancreatic juice from your pancreas to your duodenum. Small pancreatic ducts empty into the main pancreatic duct. Your common bile duct and main pancreatic duct join before emptying into your duodenum.
Why might I need ERCP?
---
You may need ERCP to find the cause of unexplained abdominal pain or yellowing of the skin and eyes (jaundice). It may be used to get more information if you have pancreatitis or cancer of the liver, pancreas, or bile ducts.
Other things that may be found with ERCP include:
Blockages or stones in the bile ducts
Fluid leakage from the bile or pancreatic ducts
Blockages or narrowing of the pancreatic ducts
Tumors
Infection in the bile ducts
Your healthcare provider may have other reasons to recommend an ERCP.
What are the risks of ERCP?
---
You may want to ask your healthcare provider about the amount of radiation used during the test. Also ask about the risks as they apply to you.
Consider writing down all X-rays you get, including past scans and X-rays for other health reasons. Show this list to your provider. The risks of radiation exposure may be tied to the number of X-rays you have over time.
If you are pregnant or think you could be, tell your healthcare provider. Radiation exposure during pregnancy may lead to birth defects.
Tell your healthcare provider if you are allergic to or sensitive to medicines, contrast dyes, iodine, or latex.
Some possible complications may include:
Inflammation of the pancreas (pancreatitis) or gallbladder (cholecystitis). Pancreatitis is one of the most common complications and should be discussed with your provider ahead of time. Keep in mind, though, that ERCP is often performed to help relieve the disease in certain types of pancreatitis.
Infection
Bleeding
A tear in the lining of the upper section of the small intestine, esophagus, or stomach
Collection of bile outside the biliary system (biloma)
You may not be able to have ERCP if:
You've had gastrointestinal (GI) surgery that has blocked the ducts of the biliary tree
You have pouches in your esophagus (esophageal diverticula) or other abnormal anatomy that makes the test difficult to perform. Sometimes the ERCP is modified to make it work in these situations.
You have barium within the intestines from a recent barium procedure since it may interfere with an ERCP
There may be other risks depend based on your condition. Be sure to discuss any concerns with your healthcare provider before the procedure.
What happens during ERCP?
---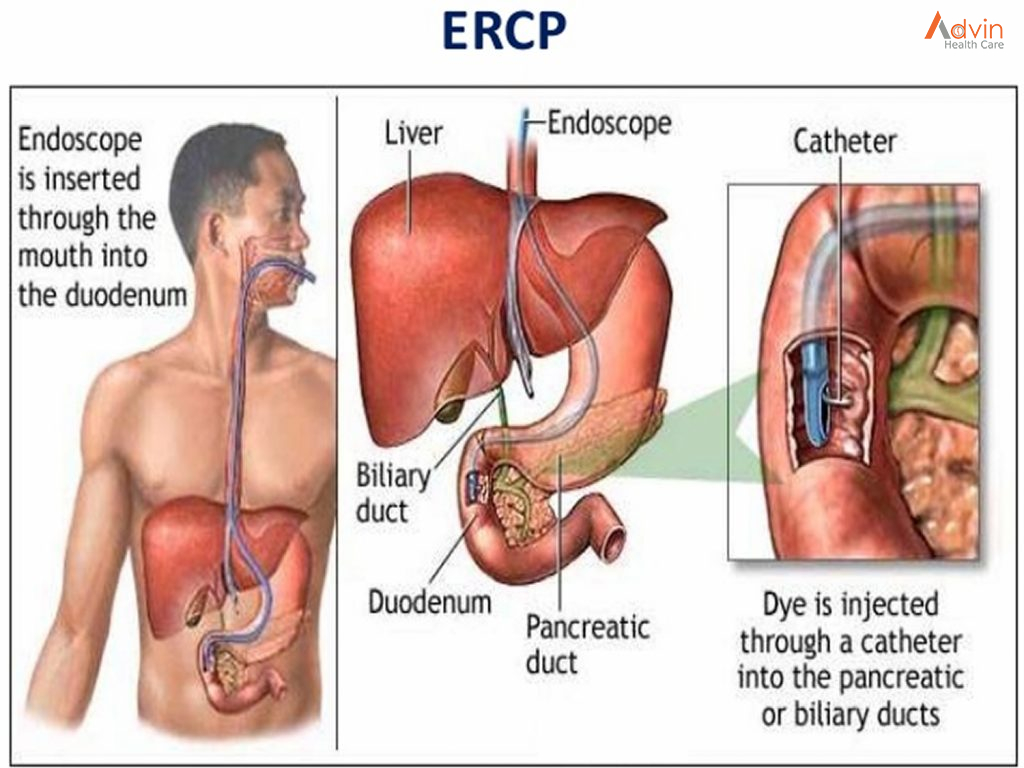 An ERCP may be done on an outpatient basis or as part of your stay in a hospital. Procedures may vary based on your condition and your healthcare provider's practices.
Generally, an ERCP follows this process:
You will need to remove any clothing, jewelry, or other objects that may interfere with the procedure.
You will need to remove clothes and put on a hospital gown.
An intravenous (IV) line will be put in your arm or hand.
You may get oxygen through a tube in your nose during the procedure.
You will be positioned on your left side or, more often, on your belly, on the X-ray table.
Numbing medicine may be sprayed into the back of your throat. This helps prevent gagging as the endoscope is passed down your throat. You will not be able to swallow the saliva that collects in your mouth during the procedure. It will be suctioned from your mouth as needed.
A mouth guard will be put in your mouth to keep you from biting down on the endoscope and to protect your teeth.
Once your throat is numbed and you are relaxed from the sedative. Your provider will guide the endoscope down the esophagus into the stomach and through the duodenum until it reaches the ducts of the biliary tree.
A small tube will be passed through the endoscope to the biliary tree, and contrast dye will be injected into the ducts. Air may be injected before the contrast dye. This may cause you to feel fullness in your abdomen.
Various X-ray views will be taken. You may be asked to change positions during this time.
After X-rays of the biliary tree are taken, the small tube for dye injection will be repositioned to the pancreatic duct. Contrast dye will be injected into the pancreatic duct, and X-rays will be taken. Again, you may be asked to change positions while the X-rays are taken.
If needed, your provider will take samples of fluid or tissue. He or she may do other procedures, such as the removal of gallstones or other blockages, while the endoscope is in place.
After the X-rays and any other procedures are done, the endoscope will be withdrawn.
What should I expect after ERCP?
---
After ERCP, you can expect the following:
You will most often stay at the hospital or outpatient center for 1 to 2 hours after the procedure so the sedation or anesthesia can wear off. In some cases, you may need to stay overnight in the hospital after ERCP.
You may have bloating or nausea for a short time after the procedure.
You may have a sore throat for 1 to 2 days.
You can go back to a normal diet once your swallowing has returned to normal.
You should rest at home for the remainder of the day.
Following the procedure, you—or a friend or family member who is with you if you're still groggy—will receive instructions on how to care for yourself after the procedure. You should follow all instructions.
Some results from ERCP are available right away after the procedure. After the sedative has worn off, the doctor will share results with you or, if you choose, with your friend or family member.
If the doctor performed a biopsy, a pathologist will examine the biopsy tissue. Biopsy results take a few days or longer to come back.
Advin ERCP Surgery Products
---