Prostate cancer is a common type of cancer in males, but it is highly treatable in the early stages. It begins in the prostate gland, which sits between the penis and the bladder.
Prostate cancer is the most common cancer and the second leading cause of cancer death among men in the world. Prostate cancer usually grows very slowly, and finding and treating it before symptoms occur may not improve men's health or help them live longer. Many prostate cancers grow slowly and are confined to the prostate gland, where they may not cause serious harm. However, while some types of prostate cancer grow slowly and may need minimal or even no treatment, other types are aggressive and can spread quickly.
Prostate cancer that's detected early — when it's still confined to the prostate gland — has the best chance for successful treatment.
What Is Prostate Cancer?
---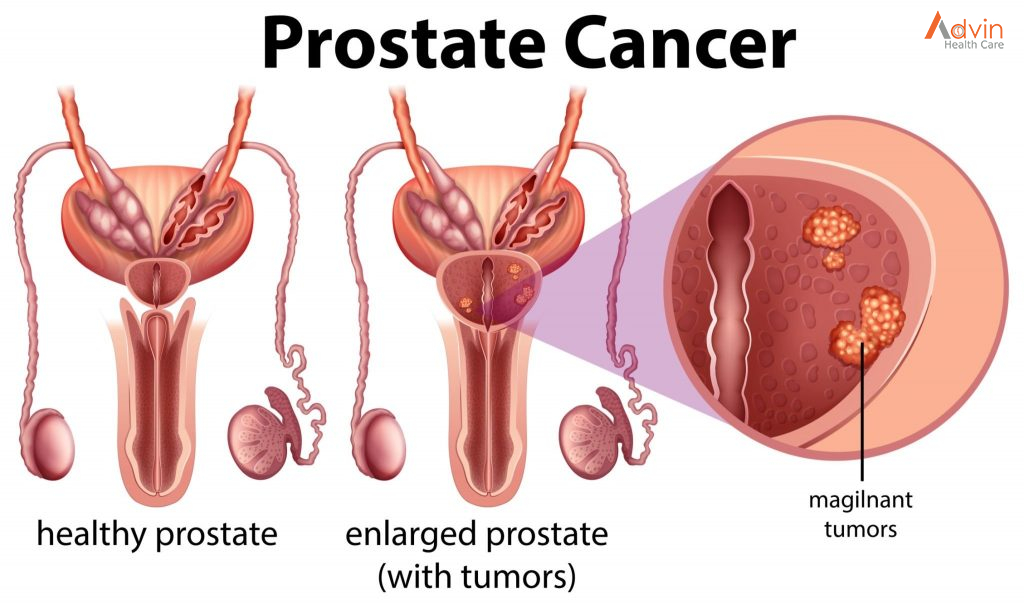 Cancer starts when cells in the body begin to grow out of control. Cells in nearly any part of the body can become cancer cells, and can then spread to other areas of the body.
Prostate cancer begins when cells in the prostate gland start to grow out of control. The prostate is a gland found only in males. It makes some of the fluid that is part of semen.
The prostate is below the bladder (the hollow organ where urine is stored) and in front of the rectum (the last part of the intestines). Just behind the prostate are glands called seminal vesicles that make most of the fluid for semen. The urethra, which is the tube that carries urine and semen out of the body through the penis, goes through the center of the prostate.
The size of the prostate can change as a man ages. In younger men, it is about the size of a walnut, but it can be much larger in older men.
Types of prostate cancer
---
Almost all prostate cancers are adenocarcinomas. These cancers develop from the gland cells (the cells that make the prostate fluid that is added to the semen).
Other types of cancer that can start in the prostate include:
Small cell carcinomas
Neuroendocrine tumors (other than small cell carcinomas)
Transitional cell carcinomas
Sarcomas
These other types of prostate cancer are rare. If you are told you have prostate cancer, it is almost certain to be an adenocarcinoma.
Some prostate cancers grow and spread quickly, but most grow slowly. In fact, autopsy studies show that many older men (and even some younger men) who died of other causes also had prostate cancer that never affected them during their lives. In many cases, neither they nor their doctors even knew they had it.
Possible pre-cancerous conditions of the prostate
---
Some research suggests that prostate cancer starts out as a pre-cancerous condition, although this is not yet known for sure. These conditions are sometimes found when a man has a prostate biopsy (removal of small pieces of the prostate to look for cancer).
Prostatic intraepithelial neoplasia (PIN)
In PIN, there are changes in how the prostate gland cells look when seen with a microscope, but the abnormal cells don't look like they are growing into other parts of the prostate (like cancer cells would). Based on how abnormal the patterns of cells look, they are classified as:
Low-grade PIN: The patterns of prostate cells appear almost normal.
High-grade PIN: The patterns of cells look more abnormal.
Low-grade PIN is not thought to be related to a man's risk of prostate cancer. On the other hand, high-grade PIN is thought to be a possible precursor to prostate cancer. If you have a prostate biopsy and high-grade PIN is found, there is a greater chance that you might develop prostate cancer over time.
PIN begins to appear in the prostates of some men as early as in their 20s. But many men with PIN will never develop prostate cancer.
Treatment
---
Treatment Trusted Source will depend on the cancer stage, among other factors, such as the Gleason score and PSA levels. It is also worth noting that many treatment options may be applicable, regardless of the stage of cancer.
In the sections below, we list some treatment options Trusted Source for prostate cancer and explore what treatment may mean for fertility.
Early-stage prostate cancer
If the cancer is small and localized, a doctor may recommend:
Watchful waiting or monitoring
The doctor may check PSA blood levels regularly but take no immediate action. Prostate cancer grows slowly, and the risk of treatment side effects may outweigh the need for immediate treatment.
Surgery
A surgeon may carry out a radical prostatectomy to remove the tumor. In addition to removing the prostate, the procedure may also involve the removal of the surrounding tissue, seminal vesicles, and nearby lymph nodes. A doctor can perform this procedure using either open, laparoscopic, or robot-assisted laparoscopic surgery.
Radiation therapy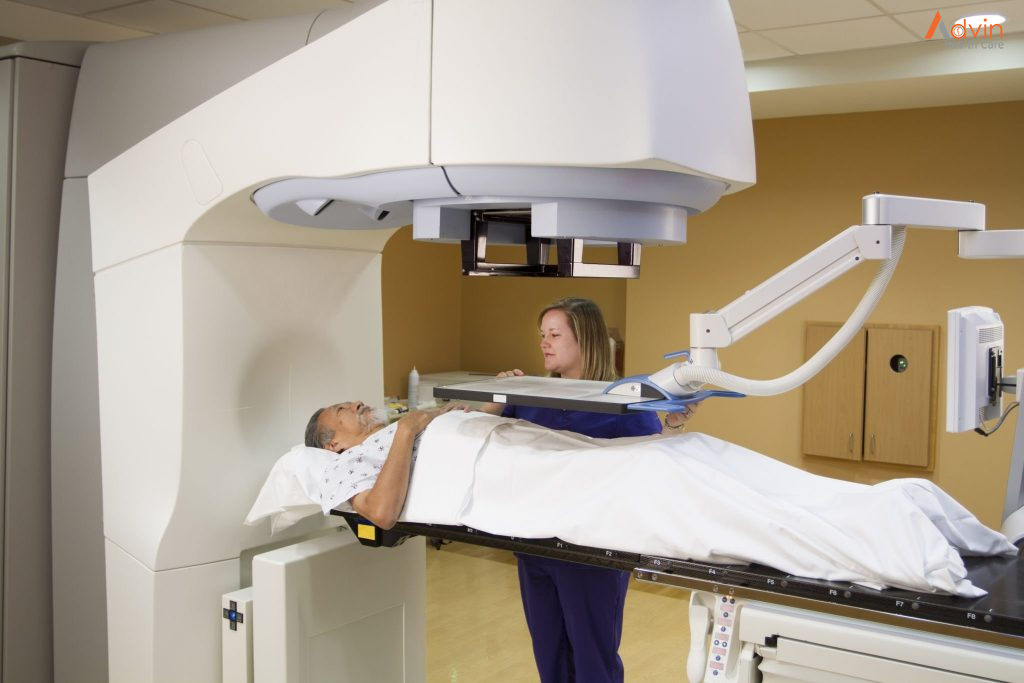 This uses radiation to kill cancer cells or prevent them from growing. Options for early stage prostate cancer may include Trusted Source:
External radiation therapy: This method uses a machine outside the body to send radiation toward the cancer cells. Conformal radiation therapy is a type of external radiation that uses a computer to help guide and target a specific area, minimizing the risk to healthy tissue and allowing a high dose of radiation to reach the prostate tumor.
Internal radiation therapy: Also known as brachytherapy, this method uses radioactive seeds that a doctor implants near the prostate. A surgeon uses imaging scans, such as ultrasound or computed tomography to help guide the placement of the radioactive substance.
Treatment will depend on various factors. A doctor will discuss the best option for the individual.
Advanced prostate cancer
As cancer grows, it can spread throughout the body. If it spreads, or if it comes back after remission, treatment options will change. Options can include:
Chemotherapy: This option uses drugs to help stop the growth of cancer cells. While it can kill cancer cells around the body, it may cause Trusted Source adverse effects.
Hormonal therapy: Androgens are male hormones. The main androgens are testosterone and dihydrotestosterone. Blocking or reducing Trusted Source these hormones appears to stop or delay the growth of cancer cells. One option is to undergo surgery to remove the testicles, which produce most of the body's hormones. Various drugs can also help.
Immunotherapy: This method uses a person's immune system to help fight cancer. Scientists can use substances the body produces, or create them in a lab, to help boost or restore the body's natural defenses against cancer.
Targeted therapy: This method uses drugs or other substances that identify and attack specific cancer cells.
Advin TURP Instrument Set
---