What is Diabetes?
---
Diabetes is a chronic (long-lasting) health condition that affects how your body turns food into energy.
Your body breaks down most of the food you eat into sugar (glucose) and releases it into your bloodstream. When your blood sugar goes up, it signals your pancreas to release insulin. Insulin acts like a key to let the blood sugar into your body's cells for use as energy.
With diabetes, your body doesn't make enough insulin or can't use it as well as it should. When there isn't enough insulin or cells stop responding to insulin, too much blood sugar stays in your bloodstream. Over time, that can cause serious health problems, such as heart disease, vision loss, and kidney disease.
What are the different types of diabetes?
---
Type 1 diabetes
If you have type 1 diabetes, your body does not make insulin. Your immune system attacks and destroys the cells in your pancreas that make insulin. Type 1 diabetes is usually diagnosed in children and young adults, although it can appear at any age. People with type 1 diabetes need to take insulin every day to stay alive.
Type 2 Diabetes
With type 2 diabetes, your body doesn't use insulin well and can't keep blood sugar at normal levels. About 90-95% of people with diabetes have type 2. It develops over many years and is usually diagnosed in adults (but more and more in children, teens, and young adults). You may not notice any symptoms, so it's important to get your blood sugar tested if you're at risk. Type 2 diabetes can be prevented or delayed with healthy lifestyle changes,
Gestational Diabetes
Gestational diabetes develops in pregnant women who have never had diabetes. If you have gestational diabetes, your baby could be at higher risk for health problems. Gestational diabetes usually goes away after your baby is born. However, it increases your risk for type 2 diabetes later in life. Your baby is more likely to have obesity as a child or teen and develop type 2 diabetes later in life.
How common is diabetes?
---
As of 2015, 30.3 million people in the United States, or 9.4 percent of the population, had diabetes. More than 1 in 4 of them didn't know they had the disease. Diabetes affects 1 in 4 people over the age of 65. About 90-95 percent of cases in adults are type 2 diabetes.1
Who is more likely to develop type 2 diabetes?
---
You are more likely to develop type 2 diabetes if you are age 45 or older, have a family history of diabetes, or are overweight. Physical inactivity, race, and certain health problems such as high blood pressure also affect your chance of developing type 2 diabetes. You are also more likely to develop type 2 diabetes if you have prediabetes or had gestational diabetes when you were pregnant. Learn more about risk factors for type 2 diabetes.
Symptoms
---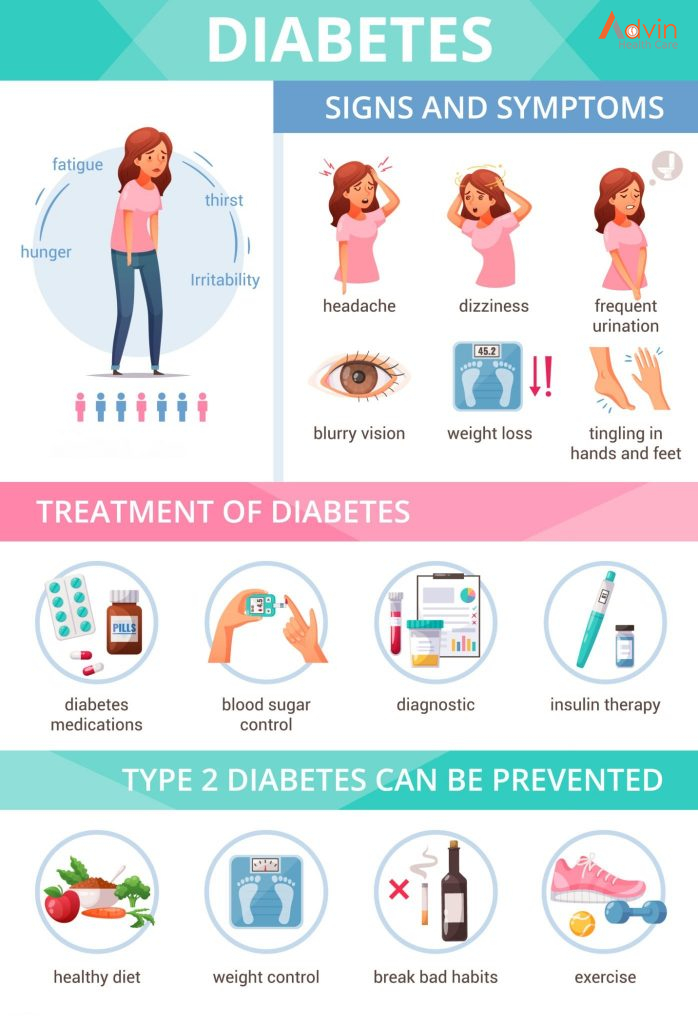 Diabetes symptoms depend on how high your blood sugar is. Some people, especially if they have prediabetes or type 2 diabetes, may not have symptoms. In type 1 diabetes, symptoms tend to come on quickly and be more severe.
Some of the symptoms of type 1 diabetes and type 2 diabetes are:
Feeling more thirsty than usual.
Urinating often.
Losing weight without trying.
Presence of ketones in the urine. Ketones are a byproduct of the breakdown of muscle and fat that happens when there's not enough available insulin.
Feeling tired and weak.
Feeling irritable or having other mood changes.
Having blurry vision.
Having slow-healing sores.
Getting a lot of infections, such as gum, skin and vaginal infections.